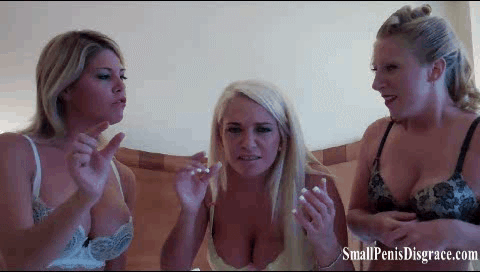 share gif:
Carrisa Montgomery, Nikki Masters, and Crystal Frost are three scorching hot fetish babes who demand a lot from the men they are with. If you don't measure up, these three fetish babes are going to let you know it.

Come in here and look at how small his penis is! Have you ever seen one so tiny before? We should get out a ruler and a camera, because I think we might have the world's smallest penis right here. If we send it in to the right people maybe you could become a celebrity as the man with the world's most pathetic penis.

If you thought that maybe we would feel sorry for you and throw you a pity fuck, you are dead wrong. We only fuck around with guys who can actually make us cum, and with your record breaking baby penis, that's literally impossible. Having sex with you would be like throwing a toothpick down a mine shaft.
- Carrisa Montgomery, Nikki Masters, & Crystal Frost