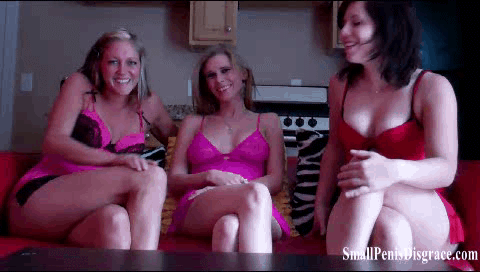 share gif:
Taylor Raz, Vanessa Vixon and Iva Sinister are three sexy fetish babes who love humiliating small dicked losers like you. I hope that you have some thick skin because these hotties are going to tear you apart when they see your tiny penis.

Wow, you really have no idea how tiny your cock is, do you? You came strutting in here like you were going to fuck our brains out and then you whip out your little baby penis. I've got news for you; that tiny little thing that you have between your legs is fucking pathetic.

It's really too bad. We were totally going to have a threesome with you, but after seeing that tiny cock, there is no fucking way that's happening. In fact, I think we should show the world just how tiny your penis is. Take off all your clothes while I get my camera. We're going to post these pictures on the internet so everyone can see how pathetic you are.
- Taylor Raz, Vanessa Vixon and Iva Sinister